Identification
CAS Number
9025-65-4
EC Number
3.1.30.2
Name
UltraNuclease
Synonyms
1,4-Dihydro-1-ethyl-7-methyl-1,8-naphthyridin-4-one-3-carboxylic acid
1,8-Naphthyridine-3-carboxylic acid, 1-ethyl-1,4-dihydro-7-methyl-4-oxo- [ACD/Index Name]
1450
1-Aethyl-7-methyl-1,8-naphthyridin-4-on-3-karbonsaeure [German]
1-Ethyl-1,4-dihydro-7-methyl-4-oxo-1,8-naphthyridine-3-carboxylic acid
1-Ethyl-7-methyl-4-oxo-1,4-dihydro-1,8-naphthyridin-3-carbonsäure [German] [ACD/IUPAC Name]
1-Ethyl-7-methyl-4-oxo-1,4-dihydro-1,8-naphthyridine-3-carboxylic acid [ACD/IUPAC Name]
222-159-7 [EINECS]
389-08-2 [RN]
Acide 1-éthyl-7-méthyl-4-oxo-1,4-dihydro-1,8-naphtyridine-3-carboxylique [French] [ACD/IUPAC Name]
Acide 1-etil-7-metil-1,8-naftiridin-4-one-3-carbossilico [Italian]
Acide nalidixico [Italian]
acide nalidixique [French] [INN]
Acido nalidixico [Spanish] [INN]
ácido nalidíxico [Spanish] [INN]
Acidum nalidixicum [Latin] [INN]
Ethyl-7-methyl-1,8-naphthyridin-4-one-3-carboxylic Acid
nalidixic acid [INN] [JAN] [USAN] [Wiki]
NegGram [Trade name]
QN2885000
SYSU-22645
T66 BV EN GNJ CVQ E2 H1 [WLN]
WIN-18320
WINTOMYLON
налидиксовая кислота [Russian] [INN]
حمض ناليديكسيك [Arabic] [INN]
萘啶酸 [Chinese] [INN]
1, 4-Dihydro-1-ethyl-7-methyl-4-oxo-1,8-naphthyridine-3-carboxylic acid
1,4-Dihydro-1-ethyl-7-methyl-4-oxo-1,8-naphthyridine-3-carboxylic acid
1,8-Naphthyridine-3-carboxylicacid, 1-ethyl-1,4-dihydro-7-methyl-4-oxo-
1189467-36-4 [RN]
1-Aethyl-7-methyl-1,8-naphthyridin-4-on-3-karbonsaeure [German]
1-ethyl-1,4-dihydro-7-methyl-4-oxo-1,8-napthyridine-3-carboxylic acid
1-ethyl-4-keto-7-methyl-1,8-naphthyridine-3-carboxylic acid
1-Ethyl-7-methyl-1,4-dihydro-1, 8-naphthyridin-4-one-3-carboxylic acid
1-Ethyl-7-methyl-1,4-dihydro-1,8-naphthyridin-4-one-3-carboxylic acid
1-Ethyl-7-methyl-4-oxo-1, 4-dihydro-1,8-naphthyridine-3-carboxylic acid
1-ethyl-7-methyl-4-oxo-1,4-dihydro-[1,8]naphthyrid
1-Ethyl-7-methyl-4-oxo-1,4-dihydro-[1,8]naphthyridine-3-carboxylic acid
1-ethyl-7-methyl-4-oxo-1,8-naphthyridine-3-carboxylic acid
1-ethyl-7-methyl-4-oxohydropyridino[2,3-b]pyridine-3-carboxylic acid
389-08-2,
3-Carboxy-1-ethyl-7-methyl-1,8-naphthidin-4-one
3-Carboxy-1-ethyl-7-methyl-1,8-naphthyridin-4-one
5-25-07-00384 (Beilstein Handbook Reference) [Beilstein]
75015
8/2/389
9025-49-4 [RN]
9025-65-4 [RN]
Acide 1-etil-7-metil-1,8-naftiridin-4-one-3-carbossilico
Acide 1-etil-7-metil-1,8-naftiridin-4-one-3-carbossilico [Italian]
Acide nalidixico [Italian]
Acide nalidixique [French]
Acide nalidixique [INN-French]
acide nalidixique; acido nalidixico; acidum nalidixicum; nalidixic acid
Acide nalidixique; Acido nalidixico; Acidum Nalidixicum; Nalidixins??ure
Acide nalidixique; Acido nalidixico; Acidum Nalidixicum; Nalidixinsäure
Acido nalidissico [DCIT]
acido nalidixico
ácido nalidíxico
Acido nalidixico [INN-Spanish]
Acidum nalidixicum [INN-Latin]
Adix
Adix (Trade name)
Adix; Curiemylon; Degram; Delugi; Dixicon; Glanega; Gramazine; Gramoneg; Huei Yi; Lisalenb; Litalon; Nadixin; Nadon; Nagomin; Nal-acid; Nalic; Nalicid; Nalid; Nalidin; Nalidix; Naligram; Nalitomylon; Nalix; Nalixid; Nalixin; Nebactil; Negachine; Nevigramon; Unaserus; Wintomylon; Wintorin; Youdix; Zuno-Nathasid
Benzoic acid, 4-(aminomethyl)- (9CI)
Betaxina
BPBio1_000125
BSPBio_000113
BSPBio_001889
Curiemylon
Curiemylon (Trade name)
Cybis
DB00779
Degram
Dixinal
EINECS 206-864-7
eucisten
eucistin
Glanega
https://www.ebi.ac.uk/chebi/searchId.do?chebiId=CHEBI:100147
Huei Yi
Huei Yi (Trade name)
IDI1_000058
Innoxalomn
Innoxalon
Jicsron
Kusnarin
Lisalenb
Lopac0_000837
N-1200
Nacid
Nadixin
Nalidixan
NALIDIXANE
Nalidixanum
Nalidixic acid (JP15/USP/INN)
Nalidixic acid 100 µg/mL in Acetonitrile
nalidixic acid standard
nalidixic acid, 99%
nalidixic acid, 99.5%
Nalidixic acid, Antibiotic for Culture Media Use Only
NALIDIXIC ACID-D5
nalidixicacid
nalidixin
Nalidixins??ure
Nalidixinsäure
Nalidixinsäure
Naligram
Naligram
Nalitomylon
Nalitucsan
N-Benzyl-4-[(5-cyclobutyl-1,2,4-oxadiazol-3-yl)methyl]-N-ethyl-3-oxo-3,4-dihydro-2H-1,4-benzoxazine-6-sulfonamide [ACD/IUPAC Name]
Nebactil
SMILES
CCn1cc(c(=O)c2c1nc(cc2)C)C(=O)O
StdInChI
InChI=1S/C12H12N2O3/c1-3-14-6-9(12(16)17)10(15)8-5-4-7(2)13-11(8)14/h4-6H,3H2,1-2H3,(H,16,17)
StdInChIKey
MHWLWQUZZRMNGJ-UHFFFAOYSA-N
Molecular Formula
C12H12N2O3
Molecular Weight
232.235
EINECS
222-159-7
MDL Number
MFCD00131010
Properties
Appearance
Colorless liquid
Safety Data
WGK Germany
2
Specifications and Other Information of Our UltraNuclease CAS 9025-65-4
Activity Definition
At 37°C and pH 8.0, the amount of enzyme that reduces the △A260 value by 1.0 (equivalent to complete digestion of 37 μg DNA) within 30 minutes is defined as an activity unit.
Identification Methods
SDS-PAGE; SEC-HPLC
Purity
99% min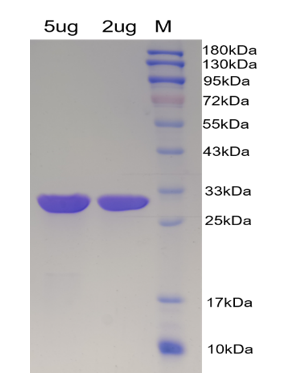 pH
8.0
Protein Specific Activity
≥1.0×106 U/mg
Isoelectric Point
6.85
Optimum Temperature
37℃
Cofactor
1-10mM Mg2+
Storage Buffer
20mM pH 8.0 Tris-HCl, 2mM MgCl2, 20mM NaCl, 50% (V/V) Glycerol
Package
5KU,25KU,50KU,100KU,1MU,5MU
Shelf Life
2 years
Storage and Shelf Life
Store at -20℃, avoid freezing and thawing, and the vitality should not be less than 90% after 2 years of storage
Advantage
UltraNuclease has high purity, low host protein residue, no animal origin, and stable mass production.
Known Application
UltraNuclease is a broad-spectrum nuclease, also known as a versatile nuclease, which is a genetically engineered nuclease derived from Serratia Marcescens. It can degrade all forms of DNA and RNA, including single-stranded, double-stranded, linear, circular, natural and denatured nucleic acids, and digest them into 5'monophosphate oligonucleotides with a length of 3-8 bases. It has no specificity for base recognition, and its hydrolysis speed is 34 times that of DNase I and 4 times that of Staphylococcus aureus nuclease. It is the first choice for nucleic acid removal enzyme preparations in the biological industry.
Enzymatic Properties and Recommended Conditions Of Use
| | | | |
| --- | --- | --- | --- |
| Items | Optimal Reaction Conditions | Effective Reaction Conditions | Response Spectrum |
| Temperature | 37℃ | 0-45℃ | |
| pH | 8.0–9.0 | 6.0–11.0 | |
| Mg2+ | 1–2mM | 1–15mM | |
| DTT | 0–100mM | >100mM | |
| 2-Mercaptoethanol | 0–100mM | >100mM | |
| Na+、K+ | 0–20mM | 0–200mM | |
| PO43- | 0–10mM | 0–100mM | |
UltraNuclease Clear
Anion Exchange Chromatography
Tangential Flow Filtration(TFF)
1. Recommend DEAE and TMAE chromatography columns;
2. The isoelectric point of Almighty Nuclease is 6.85, which can't be adsorbed.
1. A 300 kD membrane package is recommended, and the molecular weight of Almighty Nuclease is 29 kD;
2. Taking concentrated virus vaccine as an example, the clearance rate of ultrafiltration 5 volumes of Almighty Nuclease reaches 99.5%.
UltraNuclease Residue Detection
UltraNuclease ELISA Kit (Altipotent Nuclease Residue Detection Kit) is a highly sensitive and highly specific kit for detecting and quantifying the residual pluripotent nuclease impurities in recombinant virus vectors and vaccine preparations. The detection limit of the kit is 0.2 ng/mL.
Parameter
Index
Optical Density(450nm)
≤0.2
Test area
0.2-20 ng/mL
Test limit
0.2 ng/mL
CV
Analysis of per batch: 3.6 ~ 5.1%
Analysis between batches: 2.9 ~ 4.3%
recovery
92~103%
Interference immunity
Standard solution contains 4mg/ml BSA

The standard curve is not affected by large intestine host protein, yeast host protein, mouse serum protein, BSA and other miscellaneous protein.
Links
This product is developed by our R&D company Watson Bio Ltd (https://www.watson-bio.com/).
This product is developed by our R&D company Watson International Ltd (https://www.watson-int.com/).
https://www.watsonnoke.com/wp-content/uploads/2021/09/Structure-of-UltraNuclease-CAS-9025-65-4.png
201
454
Janice Zhang
https://www.watsonnoke.com/wp-content/uploads/2019/09/logo.gif
Janice Zhang
2021-09-13 09:23:14
2021-09-22 06:55:07
UltraNuclease CAS 9025-65-4