Identification
CAS Number
157283-68-6
Name
Travoprost
Synonyms
(+/-)-16-(M-TRIFLUOROMETHYLPHENOXY)TETRANORPROSTAGLANDIN F2
15(S)-FLU-IPR
15(S)-FLUPROSTENOL ISOPROPYL ESTER
(+)-9ALPHA,11ALPHA,15R-TRIHYDROXY-16-(3-(TRIFLUOROMETHYL)PHENOXY)-17,18,19,20-TETRANOR-PROSTA-5Z,13E-DIEN-1-OIC ACID, ISOPROPYL ESTER
9ALPHA,11ALPHA,15S-TRIHYDROXY-16(3-(TRIFLUOROMETHYL)PHENOXY)-17,18,19,20-TETRANOR-PROSTA-5Z,13E-DIEN-1-OIC ACID, ISOPROPYL ESTER
(+)-FLUPROSTENOL ISOPROPYL ESTER
FLUPROSTENOL ISOPROPYL ESTER
FLU-IPR
1-methylethyl (5Z)-7-[(1R,2R,3R,5S)-3,5-dihydroxy-2-{(1E,3R)-3-hydroxy-4-[3-(trifluoromethyl)phenoxy]but-1-en-1-yl}cyclopentyl]hept-5-enoate
Travatan
Travatan Z
Molecular Structure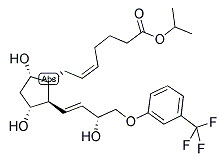 SMILES
FC(F)(F)c2cc(OC[C@H](O)/C=C/[C@@H]1[C@H]([C@@H](O)C[C@H]1O)C\C=C/CCCC(=O)OC(C)C)ccc2
StdInChI
InChI=1S/C26H35F3O6/c1-17(2)35-25(33)11-6-4-3-5-10-21-22(24(32)15-23(21)31)13-12-19(30)16-34-20-9-7-8-18(14-20)26(27,28)29/h3,5,7-9,12-14,17,19,21-24,30-32H,4,6,10-11,15-16H2,1-2H3/b5-3-,13-12+/t19-,21-,22-,23+,24-/m1/s1
StdInChIKey
MKPLKVHSHYCHOC-AHTXBMBWSA-N
Molecular Formula
C26H35F3O6
Molecular Weight
500.5477
Properties
Appearance
Light yellow to almost colourless oil
Flash Point
307.5°C
Boiling Point
584.8°C at 760 mmHg
Density
1.245g/ml
Refractive Index
1.547
Safety Data
Symbol
Risk Statements (Europe)
Safety Statements (Europe)
16-26-36
Specifications and Other Information of Our Travoprost CAS 157283-68-6
Standard
USP34
Identification Methods
HPLC, TLC
Assay
96.0%-102%
Solubility
Soluble in chloroform,ethyl acetate, acetone, practically insoluble in water
Specific Rotation
+52°~+58°,(C=1 CH2Cl2)
Water
≤1.0%
Related Compounds
Epoxide derivative ≤0.40%
15-epi Diastereomer ≤0.1%
5,6-trans Isomer ≤3.5%
15-Keto derivative ≤0.3%
Any other impurities ≤0.1%
Total other impurity ≤1.0%
Related Solvents
Isopropanol ≤0.5%
Ethyl acetate ≤0.25%
n-Hexane ≤0.029%
Ethanol ≤0.5%
Description
Travoprost is a clear,colorless to slightly yellow oil that is very soluble inacetonitrile, methanoloctanoland chloroform.It is practically insoluble in water.
Adding proportion for reference
Travoprost is asynthetic prostaglandin F2a analog. Travoprost ophthalmic solution 0.003% is supplied as sterile,isotonic,buffered aqueous solution of travoprost with a pH of approximately 6.8 and an osmolalityof approximately 290 mOsmol/kg.
Travoprost ophthalmic solution 0.003% contains Active:
Iravoprost 0.03 mg/mL;
Preservative: polyquatemium-1- 0.0Img/mL;
Inactives: boric acid, mannitol, polyoxyethylene 40 hydrogenated castor oil, propylene glycol, sodium chloride, sodium hydroxide and or hydrochloric acid(to adjust pH) andpurfied water.
Known Application
Travoprost ophthalmic solution is a topical medication used for controlling the progression of glaucoma or ocular hypertension, by reducing intraocular pressure.
Package
Plastic bag inside and paper drum outside.
Productivity
kg scale/month
Storage
Glass bottle, 2-8°C for shipment and 0 ℃ for long time storage
General View of Documents
Available Impurities
Impurity 1
Name: Epoxide Derivative
Chemical Name: (5Z)-(9S,11R,15S)-9,11,15-Trihydroxy-13,14-epoxy-16-(m-trifluoromethylphenoxy)-17,18,19,20-tetranor-5-prostadienoic acid, isopropyl ester
Appearance: Yellow oil
Identification: HNMR,MS,HPLC
Purity: 98%min(HPLC)
Impurity 2
Name: 15-epi Diastereomer
Chemical Name: (5Z,13E)-(9S,11R,15S)-9,11,15-Trihydroxy-16-(m-trifluoromethylphenoxy)-17,18,19,20-tetranor-5,13-prostadienoic acid, isopropyl ester
Appearance: Yellow oil
Identification: HNMR,MS,HPLC
Purity: 98%min(HPLC)
Impurity 3
Name: 5,6-trans Isomer
Chemical Name: (5E,13E)-(9S,11R,15R)-9,11,15-Trihydroxy-16-(m-trifluoromethylphenoxy)-17,18,19,20-tetranor-5,13-prostadienoic acid, isopropyl ester
Appearance: Yellow oil
Identification: HNMR,MS,HPLC
Purity: 98%min(HPLC)
Impurity 4
Name: 15-keto derivative
Full Name: (5Z,13E)-(9S,11R)-9,11-Dihydroxy-15-oxo-16-(m-trifluoromethylphenoxy)-17,18,19,20-tetranor-5,13-prostadienoic acid, isopropyl ester
Appearance: Yellow oil
CAS: 404830-45-1
Identification: HNMR,MS,HPLC
Purity: 98%min(HPLC)
Links
Caming Pharmaceutical Ltd
This product is developed by our sub R&D company Caming Pharmaceutical Ltd, and please click the link below for details.
http://caming.com/travoprost-cas-157283-68-6/
Watson International Ltd
This product is sold exclusively through our sales company Watson International Ltd, and please click the link below for details.
http://watson-int.com/travoprost-cas-157283-68-6-2/
https://www.watsonnoke.com/wp-content/uploads/2013/03/Structure-of-Travoprost-CAS-157283-68-6.jpg
157
219
Watson Noke Web Service
https://www.watsonnoke.com/wp-content/uploads/2019/09/logo.gif
Watson Noke Web Service
2016-02-04 00:38:48
2022-04-24 08:20:17
Travoprost CAS 157283-68-6