Identification
CAS Number
3275-24-9
Name
Tetrakis(dimethylamino)titanium
Synonyms
221-904-3 [EINECS]
3275-24-9 [RN]
Methanamine, N-methyl-, titanium(4+) salt (4:1) [ACD/Index Name]
MFCD00014861 [MDL number]
TDMAT
Tetrakis(dimethylamido)titanium
Tetrakis(dimethylamido)titanium(IV)
Tetrakis(dimethylamino)titanium(IV)
Tétrakis(diméthylazanide) de titane(4+) [French] [ACD/IUPAC Name]
Titan(4+)tetrakis(dimethylazanid) [German] [ACD/IUPAC Name]
Titanium(4+) tetrakis(dimethylazanide) [ACD/IUPAC Name]
dimethylazanide;titanium(4+)
tdmat: ti[n(ch3)2]4
Tetrakis(dimethylamino)titanium
Tetrakis(Dimethylamino)Titanium (Metals Basis)
Ti(NMe2)4
Titan(4+)tetrakis(dimethylazanid)
Titanium dimethylamide
TITANIUM, TETRAKIS(DIMETHYLAMINO)-
SMILES
CN(C)[Ti](N(C)C)(N(C)C)N(C)C
StdInChI
InChI=1S/4C2H6N.Ti/c41-3-2;/h41-2H3;/q4*-1;+4
StdInChIKey
MNWRORMXBIWXCI-UHFFFAOYSA-N
Molecular Formula
C8H24N4Ti
Molecular Weight
224.170
EINECS
221-904-3
MDL Number
MFCD00014861
Properties
Appearance
Yellow liquid
Structure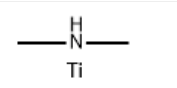 structure of Tetrakis(dimethylamino)titanium CAS 3275-24-9
Safety Data
Symbol


GHS02, GHS05
Signal Word
Warning
Hazard statements
H225 – H260 – H314
Precautionary Statements
P210 – P223 – P231 + P232 – P280 – P303 + P361 + P353 – P305 + P351 + P338
WGK Germany
3
MSDS Download
Specifications and Other Information of Our
Identification Methods
HNMR, HPLC
Purity
99.5%+(99.9999%-Ti)
Shelf Life
1 year
Storage
Under room temperature away from light
Known Application
Tetrakis(dimethylamino)titanium is commonly used as a precursor material in MOCVD for growing III-V compound semiconductor materials like gallium nitride (GaN) and gallium arsenide (GaAs). These materials are essential for the fabrication of optoelectronic devices such as laser diodes and photodetectors.
General View of Documents
Links
This product is developed by our R&D company Warshel Chemical Ltd (https://www.warshel.com/).
This product is sold exclusively through our sales company Watson International Limited, and please click the link below for details (https://www.watson-int.com/).
https://www.watsonnoke.com/wp-content/uploads/2023/09/structure-of-Tetrakisdimethylaminotitanium-CAS-3275-24-9.png
88
177
Christina Duan
https://www.watsonnoke.com/wp-content/uploads/2019/09/logo.gif
Christina Duan
2023-09-03 04:52:45
2023-09-03 04:54:05
Tetrakis(dimethylamino)titanium CAS 3275-24-9