Identification
CAS Number
1066-77-9
Name
Tetrakis(dimethylamino)tin(IV)
Synonyms
1066-77-9 [RN]
1066-78-0 [RN]
MFCD00014860
N,N,N',N',N",N",N"',N"'-Octamethylstannanetetramine [ACD/IUPAC Name]
N,N,N',N',N",N",N"',N"'-Octaméthylstannanetétramine [French] [ACD/IUPAC Name]
N,N,N',N',N",N",N"',N"'-Octamethylstannantetramin [German] [ACD/IUPAC Name]
Stannanetetramine, N,N,N',N',N",N",N"',N"'-octamethyl- [ACD/Index Name]
Tetrakis(dimethylamido)tin(IV)
Tetrakis(dimethylamino)tin
Tin(IV) dimethylamide
Stannanetetramine, octamethyl-
tetra(dimethylamino)tin
TETRAKIS TIN
Tetrakis(dimethylamino) tin(IV)
Tetrakis(dimethylamino)tin(IV)
SMILES
CN(C)[Sn](N(C)C)(N(C)C)N(C)C
StdInChI
InChI=1S/4C2H6N.Sn/c41-3-2;/h41-2H3;/q4*-1;+4
StdInChIKey
WHXTVQNIFGXMSB-UHFFFAOYSA-N
Molecular Formula
C8H24N4Sn
Molecular Weight
295.013
MDL Number
MFCD00014860
Properties
Appearance
Colorless to light yellow liquid
Structure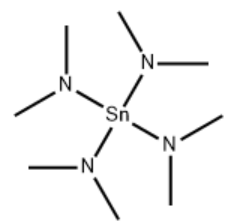 Structure of Tetrakis(dimethylamino)tin(IV) CAS 1066-77-9
Safety Data
Symbol



GHS02,GHS05, GHS07
Signal Word
Warning
Hazard statements
H225 – H302 + H312 + H332 – H314
Precautionary Statements
P210 – P280 – P301 + P312 – P303 + P361 + P353 – P304 + P340 + P310 – P305 + P351 + P338
WGK Germany
3
MSDS Download
Specifications and Other Information of Our
Identification Methods
HNMR, HPLC
Purity
99.5+%(99.9999%-Sn)
Shelf Life
1 year
Storage
Under room temperature away from light
Known Application
Tetrakis(dimethylamino)tin(IV) is commonly employed as a precursor for semiconductor materials, especially in processes like Metalorganic Chemical Vapor Deposition (MOCVD) and Metalorganic Chemical Vapor Phase Epitaxy (MOVPE). It is used to grow thin films of tin compounds and related materials, which play a crucial role in semiconductor device fabrication.
General View of Documents
Links
This product is developed by our R&D company Warshel Chemical Ltd (https://www.warshel.com/).
This product is sold exclusively through our sales company Watson International Limited, and please click the link below for details (https://www.watson-int.com/).
https://www.watsonnoke.com/wp-content/uploads/2023/09/Structure-of-TetrakisdimethylaminotinIV-CAS-1066-77-9.png
224
251
Christina Duan
https://www.watsonnoke.com/wp-content/uploads/2019/09/logo.gif
Christina Duan
2023-09-03 05:35:57
2023-09-03 06:01:50
Tetrakis(dimethylamino)tin(IV) CAS 1066-77-9