Identification
CAS Number
78628-80-5
Name
Terbinafine Hydrochloride
Synonyms
(2E)-N,6,6-Trimethyl-N-(1-naphthylmethyl)-2-hepten-4-in-1-aminhydrochlorid (1:1) [German] [ACD/IUPAC Name]
(2E)-N,6,6-Trimethyl-N-(1-naphthylmethyl)-2-hepten-4-yn-1-amine hydrochloride (1:1) [ACD/IUPAC Name]
(2E)-N,6,6-Trimethyl-N-(1-naphthylmethyl)hept-2-en-4-yn-1-amine hydrochloride (1:1)
(2E)-N,6,6-Triméthyl-N-(1-naphtylméthyl)-2-heptén-4-yn-1-amine, chlorhydrate (1:1) [French] [ACD/IUPAC Name]
(2E)-N,6,6-triméthyl-N-(naphtalén-1-ylméthyl)hept-2-én-4-yn-1-amine chlorhydrate [French]
(2E)-N,6,6-Trimethyl-N-(naphthalen-1-ylmethyl)hept-2-en-4-in-1-aminhydrochlorid
(2E)-N,6,6-trimethyl-N-(naphthalen-1-ylmethyl)hept-2-en-4-yn-1-amine hydrochloride
(2E)-N,6,6-trimethyl-N-(naphthalen-1-ylmethyl)hept-2-en-4-yn-1-amine hydrochloride (1:1)
1-Naphthalenemethanamine, N-[(2E)-6,6-dimethyl-2-hepten-4-yn-1-yl]-N-methyl-, hydrochloride (1:1) [ACD/Index Name]
78628-80-5 [RN]
Lamisil [Trade name]
MFCD00145430 [MDL number]
QJ8600100
Terbinafine HCl
Terbinafine hydrochloride
trans-N-(6,6-Dimethyl-2-hepten-4-ylyl)-N-methyl-1-naphthylmethylamine hydrochloride
trans-N-Methyl-N-(1-naphthylmethyl)-6,6-dimethylhept-2-en-4-ynyl-1-amine hydrochloride
({(2E)-6,6-Dimethylhept-2-en-4-yn-1-ylamino}methyl)naphthalene hydrochloride
(E)-N-(6,6-Dimethyl-2-hepten-4-ynyl)-N-methyl-1-naphthalenemethanamine monohydrochloride
(E)-N-(6,6-Dimethyl-2-hepten-4-ynyl)-N-methyl-1-naphthalenemethylamine hydrochloride
(E)-N-(6,6-Dimethyl-2-hepten-4-ynyl)-N-methyl-1-naphthylmethylamine hydrochloride
(E)-N,6,6-trimethyl-N-(1-naphthalenylmethyl)-1-hept-2-en-4-ynamine hydrochloride
(E)-N,6,6-trimethyl-N-(1-naphthylmethyl)hept-2-en-4-yn-1-amine hydrochloride
(E)-N,6,6-trimethyl-N-(naphthalen-1-ylmethyl)hept-2-en-4-yn-1-amine hydrochloride
1185240-27-0 [RN]
1-Naphthalenemethanamine, N-(6,6-dimethyl-2-hepten-4-ynyl)-N-methyl-, (E)-, monohydrochloride
202-829-5 [EINECS]
616-640-4 [EINECS]
Afogan
Bramazil
cis-Terbinafine Hydrochloride
Corbinal
HYDROGEN TERBINAFINE CHLORIDE
hydron;(E)-N,6,6-trimethyl-N-(naphthalen-1-ylmethyl)hept-2-en-4-yn-1-amine;chloride
InnoNyx
LAMISIL AT
LAMISIL HYDROCHLORIDE
Lamisil Krem
MFCD00000693 [MDL number]
mycoCeaze
MycoVa
N-[(2E)-6,6-dimethyl-2-hepten-4-yn-1-yl]-N-methyl-1-naphthalenemethanamine, monohydrochloride
QA-2611
Sebifin
SF 86-327 hydrochloride
TerbiFoam
Terbinafine hydrochioride
terbinafine monohydrochloride
Terbisil
trans-N-(6,6-Dimethyl-2-hepten-4-ynyl)-N-methyl-1-naphthylmethylamine Hydrochloride
WZ1797000
Zabel
Zimig
Molecular Structure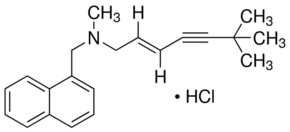 SMILES
CC(C)(C)C#C/C=C/CN(C)Cc1cccc2c1cccc2.Cl
StdInChI
InChI=1S/C21H25N.ClH/c1-21(2,3)15-8-5-9-16-22(4)17-19-13-10-12-18-11-6-7-14-20(18)19;/h5-7,9-14H,16-17H2,1-4H3;1H/b9-5+;
StdInChIKey
Molecular Formula
C21H25N · HCl
Molecular Weight
327.89
MDL Number
Properties
Appearance
White or almost white powder
Safety Data
Symbol


GHS07, GHS09
Signal Word
Warning
Hazard statements
H315-H319-H335-H410
Precautionary Statements
P261-P273-P305 + P351 + P338-P501
Supplemental Hazard Statements 
Risk of explosion if heated under confinement.
Personal Protective Equipment
dust mask type N95 (US), Eyeshields, Gloves
RIDADR
UN 3077 9 / PGIII
WGK Germany
3
RTECS
QJ8600100
Specifications and Other Information of Our Terbinafine Hydrochloride CAS 78628-80-5
Identification Methods
IR
Assay
99.0%-101.0%
Particle Size
90% NMT 50μm
Related Substances
Impurity B
≤0.15%
Impurity E
≤0.05%
Unspecified impurities
Each Impurity ≤0.1%
Loss on Drying
≤0.5%
Sulfated ash
≤0.1%
Residual Solvent
Ethyl acetate
≤0.5%
Dichloromethane
≤0.06%
Isopropanol
≤0.5%
Shelf Life
2 years
Storage
Under room temperature away from light
Known Application
Terbinafine Hydrochloride is a kind of acrylamine drug with broad-spectrum antifungal activity. It has significant curative effect on athlete's foot, onychomycosis, body lice, femur and tinea versicolor caused by fungi. It can also be used in bronchial tubes. Asthma, asthmatic bronchitis and emphysema.
Links
Caming Pharmaceutical Ltd
This product is developed by our sub R&D company Caming Pharmaceutical Ltd, and please click the link below for details.
http://www.caming.com/terbinafine-hydrochloride-cas-78628-80-5/
Watson International Ltd
This product is sold exclusively through our sales company Watson International Ltd, and please click the link below for details.
http://www.watson-int.com/terbinafine-hydrochloride-cas-78628-80-5/