Identification
CAS Number
53408-94-9
Name
Stannous methanesulfonate
Synonyms
16478869 [Beilstein]
53408-94-9 [RN]
WSQ1 &&Sn Salt 2:1 [WLN]
methanesulfonate; tin(2+)
MFCD00137737 [MDL number]
Stannous methanesulfonate [ACD/IUPAC Name]
Tin(II) methanesulfonate
Molecular Structure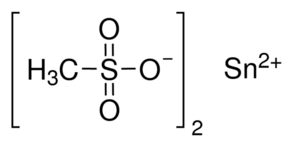 SMILES
CS(=O)(=O)[O-].CS(=O)(=O)[O-].[Sn+2]
StdInChI
InChI=1S/2CH4O3S.Sn/c21-5(2,3)4;/h21H3,(H,2,3,4);/q;;+2/p-2
StdInChIKey
JALQQBGHJJURDQ-UHFFFAOYSA-L
Molecular Formula
(CH3SO3)2Sn
Molecular Weight
308.91
Beilstein Registry Number
16478869
MDL Number
MFCD00137737
Properties
Appearance
Colorless or buff transparent liquid
Safety Data
Signal Word
Danger
RIDADR
UN 3265 8 / PGII
WGK Germany
1
Specifications and Other Information of Our Stannous methanesulfonate CAS 53408-94-9
Identification Methods
HNMR, HPLC
Sn2+
≥300g/L
Free MSA
≤10%
SO42-
≤30ppm
Cl-
≤10ppm
Fe
≤10ppm
Pb
≤20ppm
Packing
Polyethylene plastic drum 30 kg/drum, 250kg/drum, or customized.
Storage
Stored at cool, dry and ventilated place.
Productivity
MT scale
Known Application
Used in electroplating and other electronics industries.
Links
Watson International Ltd
This product is sold exclusively through our sales company Watson International Ltd, and please click the link below for details.
http://www.watson-int.com/stannous-methanesulfonate-cas-53408-94-9/
https://www.watsonnoke.com/wp-content/uploads/2019/08/Structure-of-Stannous-methanesulfonate-CAS-53408-94-9.png
144
290
Janice Zhang
https://www.watsonnoke.com/wp-content/uploads/2019/09/logo.gif
Janice Zhang
2019-08-09 08:33:15
2019-08-09 08:35:34
Stannous methanesulfonate CAS 53408-94-9