Identification
CAS Number
1157-60-4
Name
Pseudouridine 5′-monophosphate
Synonyms
(1S)-1,4-Anhydro-1-(2,4-dioxo-1,2,3,4-tetrahydro-5-pyrimidinyl)-5-O-phosphono-D-ribitol [German] [ACD/IUPAC Name]
(1S)-1,4-Anhydro-1-(2,4-dioxo-1,2,3,4-tetrahydro-5-pyrimidinyl)-5-O-phosphono-D-ribitol [ACD/IUPAC Name]
(1S)-1,4-Anhydro-1-(2,4-dioxo-1,2,3,4-tétrahydro-5-pyrimidinyl)-5-O-phosphono-D-ribitol [French] [ACD/IUPAC Name]
1157-60-4 [RN]
5-(5-O-Phosphono-β-D-ribofuranosyl)-2,4(1H,3H)-pyrimidinedione
D-Ribitol, 1,4-anhydro-1-C-(1,2,3,4-tetrahydro-2,4-dioxo-5-pyrimidinyl)-, 5-(dihydrogen phosphate), (1S)- [ACD/Index Name]
Pseudouridine 5′-phosphate
Pseudouridine 5′-phosphic acid
(1S)-1,4-anhydro-1-(2,4-dioxo-1,2,3,4-tetrahydropyrimidin-5-yl)-5-O-phosphono-D-ribitol
(1S)-1,4-anhydro-1-(2,4-dioxo-1,2,3,4-tetrahydropyrimidin-5-yl)-D-ribitol 5-(dihydrogen phosphate)
[(2R,3S,4R,5S)-5-(2,4-dioxo-1,3-dihydropyrimidin-5-yl)-3,4-dihydroxyoxolan-2-yl]methoxyphosphonic acid
[5-(2,4-dioxo-1H-pyrimidin-5-yl)-3,4-dihydroxy-oxolan-2-yl]methoxyphosphonic acid
{[(2R,3S,4R,5S)-5-(2,4-dihydroxypyrimidin-5-yl)-3,4-dihydroxyoxolan-2-yl]methoxy}phosphonic acid
{[(2R,3S,4R,5S)-5-(2,4-dioxo-1,2,3,4-tetrahydropyrimidin-5-yl)-3,4-dihydroxyoxolan-2-yl]methoxy}phosphonic acid
2,4(1H,3H)-Pyrimidinedione, 5-(5-O-phosphono-β-D-ribofuranosyl)-
5-(5-O-phosphono-β-D-ribofuranosyl)pyrimidine-2,4(1H,3H)-dione
PSEUDOURIDINE 5`-PHOSPHATE
Pseudouridine-5′-Monophosphate
Pseudouridylic acid
PSU(1S)-1,4-Anhydro-1-(2,4-dioxo-1,2,3,4-tetrahydro-5-pyrimidinyl)-5-O-phosphono-D-ribitol [German] [ACD/IUPAC Name]
(1S)-1,4-Anhydro-1-(2,4-dioxo-1,2,3,4-tetrahydro-5-pyrimidinyl)-5-O-phosphono-D-ribitol [ACD/IUPAC Name]
(1S)-1,4-Anhydro-1-(2,4-dioxo-1,2,3,4-tétrahydro-5-pyrimidinyl)-5-O-phosphono-D-ribitol [French] [ACD/IUPAC Name]
1157-60-4 [RN]
5-(5-O-Phosphono-β-D-ribofuranosyl)-2,4(1H,3H)-pyrimidinedione
D-Ribitol, 1,4-anhydro-1-C-(1,2,3,4-tetrahydro-2,4-dioxo-5-pyrimidinyl)-, 5-(dihydrogen phosphate), (1S)- [ACD/Index Name]
Pseudouridine 5′-phosphate
Pseudouridine 5′-phosphic acid
(1S)-1,4-anhydro-1-(2,4-dioxo-1,2,3,4-tetrahydropyrimidin-5-yl)-5-O-pho
SMILES
c1c(c(=O)[nH]c(=O)[nH]1)[C@H]2[C@@H]([C@@H]([C@H](O2)COP(=O)(O)O)O)O
StdInChI
InChI=1S/C9H13N2O9P/c12-5-4(2-19-21(16,17)18)20-7(6(5)13)3-1-10-9(15)11-8(3)14/h1,4-7,12-13H,2H2,(H2,16,17,18)(H2,10,11,14,15)/t4-,5-,6-,7+/m1/s1
StdInChIKey
MOBMOJGXNHLLIR-GBNDHIKLSA-N
Molecular Formula
C9H13N2O9P
Molecular Weight
324.181
Properties
Appearance
White solid
Structure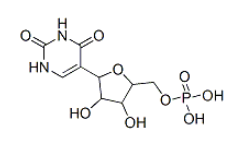 Structure of Pseudouridine 5′-monophosphate CAS 1157-60-4
Safety Data
Symbol
Signal Word
Warning
WGK Germany
3
MSDS Download
Specifications and Other Information of Our
Identification Methods
HNMR, HPLC
Purity
96% min
Shelf Life
2 years
Storage
Store at -20°C for long time, in container tightly sealed; Protect from light.
Known Application
Pseudouridine 5′-monophosphate CAS 1157-60-4 purity 96% min and is used be a IVD.
General View of Documents
Links
This product is developed by our R&D company Ulcho Biochemical Limited (http://www.ulcho.com/).
This product is sold exclusively through our sales company Watson International Limited, and please click the link below for details (https://www.watson-int.com/).
https://www.watsonnoke.com/wp-content/uploads/2023/10/structure-of-Pseudouridine-5-monophosphate-CAS-1157-60-4.png
159
250
Christina Duan
https://www.watsonnoke.com/wp-content/uploads/2019/09/logo.gif
Christina Duan
2023-10-20 03:07:51
2023-10-20 03:08:09
Pseudouridine 5'-monophosphate CAS 1157-60-4