Identification
Properties
Safety Data
Specifications & Other Information
Links
Identification
Name
PEDOT/PSS-Antistatic coating liquid WI09
Molecular Structure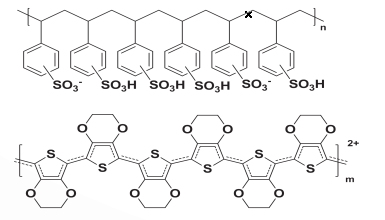 Properties
Appearance
Dark blue liquid
Safety Data
WGK Germany
3
Specifications and Other Information of Our PEDOT/PSS-Antistatic coating liquid WI09
Standard
Enterprise standard
Solid content
7%~8.5%
Surface resistivity
105-7Ω/sq
Package
According to customer requirements to packaging
Storage
Under the room temperature and away from light
Advantage
1. The conductivity of traditional antistatic agent is greatly affected by humidity, and the conductivity of this product is not affected by humidity, it is a new generation of antistatic agent.
2. When used on PET materials, the surface resistivity is as low as 105-7 Ω/sq, and the antistatic ability greatly exceeds the traditional antistatic agent.
3. It can be diluted by 5-10. The extremely thin coating thickness can meet the antistatic requirements, the visible light transmittance is excellent, and the alcohol resistance is good.
4. One-component water-based products, environmentally safe, non-irritating odor, easy to use and store.
Application
As antistatic treatment of PET, PP, PS, PE, ANS, PVC and other plastic film and sheet surface, it can be used as a primer to provide good adhesion and wettability, and has good antistatic effect.
Links
Warshel Chemical Ltd
This product is developed by our sub R&D company Warshel Chemical Ltd, and please click the link below for details.
http://www.warshel.com/pedot-pss-antistatic-coating-liquid-wi09/
Watson International Ltd
This product is sold exclusively through our sales company Watson International Ltd, and please click the link below for details.
http://www.watson-int.com/pedot-pss-antistatic-coating-liquid-wi09/