Identification
CAS Number
75-75-2
Name
Methanesulfonic acid
Synonyms
12EH9M7279
1446024 [Beilstein]
200-898-6 [EINECS]
75-75-2 [RN]
Acide méthanesulfonique [French] [ACD/IUPAC Name]
CH3SO3H [Formula]
Kyselina methansulfonova [Czech]
Mesic acid
methane sulfonic acid
Methanesulfonic acid [ACD/Index Name] [ACD/IUPAC Name] [Wiki]
Methanesulfonic acid concentrate
Methanesulphonic acid
Methansulfonsaeure [German]
Methansulfonsäure [German] [ACD/IUPAC Name]
Methylsulfonic acid
MFCD00007518 [MDL number]
PB1140000
03S
17696-73-0 [RN]
2-(N-MORPHOLINO)-ETHANESULFONIC ACID
4-(2-HYDROXYETHYL)-1-PIPERAZINE ETHANESULFONIC ACID
4-04-00-00010 (Beilstein Handbook Reference) [Beilstein]
66178-40-3 [RN]
70% aqueous solution
EINECS 200-898-6
Kyselina methansulfonova
Kyselina methansulfonova [Czech]
MES
mesylic acid
Methanesulfonic Acid (en)
methansulfonic acid
Methansulfonsaeure
methyl sulfonic acid
UNII:12EH9M7279
UNII-12EH9M7279
WLN: WSQ1
甲磺酸 [Chinese]
Molecular Structure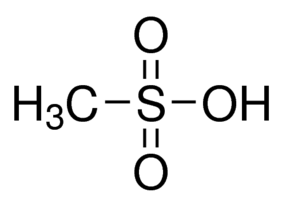 SMILES
CS(=O)(=O)O
StdInChI
InChI=1S/CH4O3S/c1-5(2,3)4/h1H3,(H,2,3,4)
StdInChIKey
AFVFQIVMOAPDHO-UHFFFAOYSA-N
Molecular Formula
CH4O3S
Molecular Weight
96.106
Beilstein Registry Number
1446024
EC Number
200-898-6
MDL Number
MFCD00007518
Properties
Appearance
Colorless transparent or light yellow oily liquid
Safety Data
Signal Word
Danger
RIDADR
UN 3265 8 / PGII
RTECS
PB1140000
WGK Germany
1
Specifications and Other Information of Our Methanesulfonic acid CAS 75-75-2
Quality Index
| | | |
| --- | --- | --- |
| Specification | Grade 1 | Grade 2 |
| CH3SO3H | ≥70% | ≥90% |
| SO42- | ≤30PPM | ≤50PPM |
| CL– | ≤10PPM | ≤10PPM |
| Fe | ≤5PPM | ≤5PPM |
| Pb | ≤5PPM | ≤5PPM |
| Chroma (APHA) | ≤10 | ≤50 |
Packing
Polyethylene plastic drum 30 kg/drum, 250kg/drum, or customized.
Storage
Stored at cool, dry and ventilated place.
Productivity
MT scale
Known Application
Used as alkylation, esterification and polymerization catalysts, 99% methyl sulfonic acid is mainly used for medicine side Surface, 70% of the products are mainly used in electroplating industry.
Links
Watson International Ltd
This product is sold exclusively through our sales company Watson International Ltd, and please click the link below for details.
http://www.watson-int.com/methanesulfonic-acid-cas-75-75-2/
https://www.watsonnoke.com/wp-content/uploads/2019/08/Structure-of-Methanesulfonic-acid-CAS-75-75-2.png
200
286
Janice Zhang
https://www.watsonnoke.com/wp-content/uploads/2019/09/logo.gif
Janice Zhang
2019-08-09 08:57:53
2019-08-09 09:02:32
Methanesulfonic acid CAS 75-75-2