Identification
CAS Number
9004-65-3
Name
HPMC//Hydroxypropyl Methyl Cellulose
Synonyms
2,3,6-Tris-O-(2-hydroxypropyl)-4-O-[2,3,4,6-tétrakis-O-(2-hydroxypropyl)-β-D-glucopyranosyl]-β-D-glucopyranoside de 2-hydroxypropyle – 2,3,6-tri-O-méthyl-4-O-(2,3,4,6-tétra-O-méthyl-β-D-gluco
pyranosyl)-β-D-glucopyranoside de méthyle (1:1) [French] [ACD/IUPAC Name]
2-Hydroxypropyl 2,3,6-tris-O-(2-hydroxypropyl)-4-O-[2,3,4,6-tetrakis-O-(2-hydroxypropyl)-β-D-glucopyranosyl]-β-D-glucopyranoside – methyl 2,3,6-tri-O-methyl-4-O-(2,3,4,6-tetra-O-methyl-β-D-gl
ucopyranosyl)-β-D-glucopyranoside (1:1) [ACD/IUPAC Name]
2-Hydroxypropyl-2,3,6-tris-O-(2-hydroxypropyl)-4-O-[2,3,4,6-tetrakis-O-(2-hydroxypropyl)-β-D-glucopyranosyl]-β-D-glucopyranosid -methyl-2,3,6-tri-O-methyl-4-O-(2,3,4,6-tetra-O-methyl-β-D-gluc
opyranosyl)-β-D-glucopyranosid (1:1) [German] [ACD/IUPAC Name]
β-D-Glucopyranoside, 2-hydroxypropyl 2,3,6-tris-O-(2-hydroxypropyl)-4-O-[2,3,4,6-tetrakis-O-(2-hydroxypropyl)-β-D-glucopyranosyl]-, compd. with β-D-glucopyranoside, methyl 2,3,6-tri-O-methyl-
4-O-(2,3,4,6-tetra-O-methyl-β-D-glucopyranosyl)- (1:1) [ACD/Index Name]
9004-65-3 [RN]
HPMC
Hypromellose
Methocel
羟丙甲纤维素 [Chinese]
Molecular Structure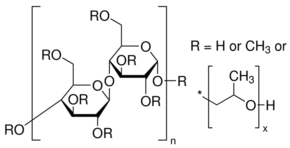 SMILES
CC(COC[[email protected]@H]1[[email protected]]([[email protected]@H]([[email protected]]([[email protected]@H](O1)O[[email protected]@H]2[[email protected]](O[[email protected]]([[email protected]@H]([[email protected]]2OCC(C)O)OCC(C)O)OCC(C)O)COCC(C)O)OCC(C)O)OCC(C)O)OCC(C)O)O.COC[[email protected]@H]1[[email protected]]([[email protected]@H]([[email protected]]([[email protected]@H](O1)O[[email protected]@H]2[[email protected]](O[[email protected]]([[email protected]@H]([[email protected]]2OC)OC)OC)COC)OC)OC)OC
StdInChI
InChI=1S/C36H70O19.C20H38O11/c1-19(37)9-45-17-27-29(47-11-21(3)39)31(48-12-22(4)40)34(51-15-25(7)43)36(54-27)55-30-28(18-46-10-20(2)38)53-35(52-16-26(8)44)33(50-14-24(6)42)32(30)49-13-23(5)41;1-21-9-11-13(23-3)15(24-4)18(27-7)20(30-11)31-14-12(10-22-2)29-19(28-8)17(26-6)16(14)25-5/h19-44H,9-18H2,1-8H3;11-20H,9-10H2,1-8H3/t19?,20?,21?,22?,23?,24?,25?,26?,27-,28-,29-,30-,31+,32+,33-,34-,35-,36+;11-,12-,13-,14-,15+,16+,17-,18-,19-,20+/m11/s1
StdInChIKey
PUSNGFYSTWMJSK-GSZQVNRLSA-N
Molecular Formula
C56H108O30
MDL Number
MFCD00131360
Properties
Appearance
White powder
Viscosity
~4,000 cP, 2 % in H2O(20 °C)(lit.)
Graininess
The 100 mesh pass rate is greater than 100%
Bulk Density
0.25-0.70g / (usually 0.4g)
Specific Gravity
1.26-1.31
Color change temperature
180-200℃
Carbonization temperature
280-300 ℃
Safety Data
Personal Protective Equipment
Eyeshields, Gloves, type N95 (US), type P1 (EN143) respirator filter
RIDADR
NONH for all modes of transport
WGK Germany
1
Specifications and Other Information of Our HPMC//Hydroxypropyl Methyl Cellulose CAS 9004-65-3
Specifications
| | | | |
| --- | --- | --- | --- |
| Specification | WI-E | WI-F | WI-K |
| Methoxy(%) | 28.0-30.0 | 27.0-30.0 | 19.0-24.0 |
| Hydroxypropoxy(%) | 7.0-12.0 | 4.0-7.5 | 4.0-12.0 |
| pH | 4.0-8.0 | 4.0-8.0 | 4.0-8.0 |
| Moisture(%) | ≤5.0 | ≤5.0 | ≤5.0 |
| Residue on ignition(%) | ≤1.0% | ≤1.0% | ≤1.0% |
| Gelling temperature(℃) | 58-64 | 62-68 | 70-90 |
Viscosity
| | | | | |
| --- | --- | --- | --- | --- |
| Viscosity | WI-E | WI-F | WI-K | WI-J |
| Low viscosity (mPa.s) | 50 | 400 | 400 | 400 |
| | 70 | 2000 | 2000 | 2000 |
| | 100 | 4000 | 4000 | 4000 |
| | 400 | 8000 | 8000 | 8000 |
| Medium viscosity (mPa.s) | 4000 | 4000 | 4000 | 4000 |
| | 6000 | 6000 | 6000 | 6000 |
| | 15000 | 15000 | 15000 | 15000 |
| High viscosity (mPa.s) | 40000 | 40000 | 40000 | 40000 |
| | | 60000 | 60000 | 60000 |
| | | 80000 | 80000 | 80000 |
| | | 100000 | 100000 | 100000 |
| | | | 150000 | 150000 |
| | | | 200000 | 200000 |
Package
25kg/bag; Paper-plastic composite woven bag
Storage
Sealed in a dry place, protected from rain and moisture, and protected from direct sunlight
Dissolution method
All models can be added to the material by dry mixing method;
When it is necessary to directly add to the normal temperature aqueous solution, it is preferable to use a cold water dispersion type, and it is generally thickened after 10-90 minutes after the addition;
The common model is first stirred with hot water and then dissolved by adding cold water and stirring.
If agglomeration occurs during dissolution, it is caused by insufficient stirring or direct addition of ordinary models to cold water. At this time, stir quickly.
If bubbles are generated during dissolution, it can be allowed to stand for 2-12 hours (depending on the consistency of the solution) or vacuumed, pressurized, etc., or an appropriate amount of defoamer can be added.
Known Application
Construction industry: As a water retaining agent and retarder for cement sand slurry, the slurry has pumpability. In the plaster, gypsum, putty powder or other building materials as a binder, improve the spreadability and extend the operation time. Used as a paste tile, marble, plastic decoration, paste enhancer, can also reduce the amount of cement. The water retention of HPMC allows the slurry to not crack too quickly after application, enhancing the strength after hardening.
Ceramic manufacturing: widely used as a binder in the manufacture of ceramic products.
Coating industry: As a thickener, dispersant and stabilizer in the coating industry, it has good compatibility in water or organic solvent. As a paint stripper.
Ink printing: As a thickener, dispersant and stabilizer in the ink industry, it has good compatibility in water or organic solvents.
Plastic: as a mold release agent, softener, lubricant, etc.
Polyvinyl chloride: As a dispersant in the production of polyvinyl chloride, it is the main auxiliary agent for the preparation of PVC by suspension polymerization.
Others: This product is also widely used in leather, paper products, fruit and vegetable preservation and textile industry.
Links
Watson International Ltd
This product is sold exclusively through our sales company Watson International Ltd, and please click the link below for details.
http://www.watson-int.com/hpmc-hydroxypropyl-methyl-cellulose-cas-9004-65-3/
https://www.watsonnoke.com/wp-content/uploads/2019/07/Structure-of-HPMC-Hydroxypropyl-Methyl-Cellulose-CAS-9004-65-3.png
148
290
Janice Zhang
https://www.watsonnoke.com/wp-content/uploads/2019/09/logo.gif
Janice Zhang
2019-07-08 08:25:21
2019-07-08 08:26:34
HPMC//Hydroxypropyl Methyl Cellulose CAS 9004-65-3