Identification
Name
rHGH
CAS Number
12629-01-5
Synonyms
Somatotropin from human pituitary
Human growth hormone
HGH
rhGH
Molecular Structure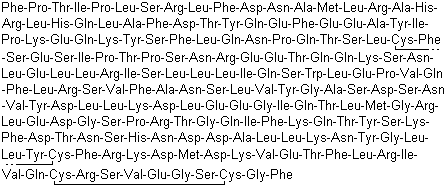 MDL Number
MFCD00081960
EINECS Number
235-735-8
Molecular Formula
C990H1529N263O299S7
Molecular Weight
22124.12
Properties
Appearance
Lyophilized Powder
Recombinant
Expressed in E. coli
Safety Data
WGK Germany
3
Specifications and Other Information of Our HGH,rHGH CAS 12629-01-5
Package
10IU/vial(Equals 3mg/vial)
Identification Methods
Electrophoresis, HPLC
Assay
95% min, 98%min
Sterility
Sterile-filtered
Endotoxin
4EU/mg
Related Substances
1% max
Protein Content
4.1mg/ml
Biochem/Physiol Actions
Increases mass of most tissues by increasing cell number rather than cell size, mobilizes fat stores.
Reconstitution
It is recommended that sterile PBS containing at least 0.1% human serum albumin or bovine serum albumin be added to the vial to prepare a stock solution of no less than 10 μg/mL.
Physical Form
Lyophilized from a 0.2 μm filtered solution in TBS (20 mM Tris, 0.15 M NaCl, pH 8.5) containing 50 μg of BSA per 1 μg of cytokine.
Productivity
100000-200000 vials/month
General View of Doccuments
Other Packages
15IU/vial, 20IU/vial or per request
Storage
−20°C
Shelf Life
One year
Watson-Int Link
https://www.watsonnoke.com/wp-content/uploads/2013/03/Structure-of-Somatotropin-CAS-12629-01-5.gif
187
446
Watson Noke Web Service
https://www.watsonnoke.com/wp-content/uploads/2019/09/logo.gif
Watson Noke Web Service
2013-03-01 06:52:01
2015-05-06 06:29:01
HGH,rHGH CAS 12629-01-5