Identification
CAS Number
33271-88-4
Name
Cyclopentadienyl Tris(dimethylamino) Zirconium
Synonyms
CpZr(NMe2)3CpTDMAZ;CPTDMAZ2;CyclopentadienylTris(dimethylamino)Zirconium;(cyclopentadienyl)zirconiumtrChemicalbookis(dimethylamide);Tris(dimethylamino)cyclopentadienylzirconium;Cyclophentadienyltrimethoxyzirconium(Ⅳ)
Molecular Formula
C11H18N3Zr
Molecular Weight
283.51
Properties
Appearance
Yellow liquid
Structure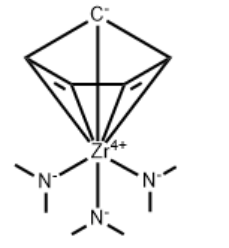 structure of Cyclopentadienyl Tris(dimethylamino) Zirconium CAS 33271-88-4
Safety Data
Symbol
WGK Germany
3
MSDS Download
Specifications and Other Information of Our
Identification Methods
HNMR, HPLC
Purity
99.5%+(99.999+%-Zr)
Shelf Life
1 year
Storage
Under room temperature away from light
Known Application
Cyclopentadienyl Tris(dimethylamino) Zirconium is an important catalyst in organic synthesis, typically used for the reduction of ketones or imines to alcohols or amines. This reduction reaction is commonly referred to as "zirconium-catalyzed amide reduction" and finds widespread application in the preparation of organic compounds, including pharmaceutical and fine chemical synthesis.
And Cyclopentadienyl Tris(dimethylamino) Zirconium can serve as a Chemical Vapor Deposition (CVD) precursor material for the production of metal oxides and metal thin films. This is highly significant in semiconductor manufacturing and the coatings industry.
It is an essential organozirconium complex that can be used to synthesize other organozirconium compounds. These complexes play a vital role in organometallic chemistry and catalysis.
General View of Documents
Links
This product is developed by our R&D company Warshel Chemical Ltd (https://www.warshel.com/).
This product is sold exclusively through our sales company Watson International Limited, and please click the link below for details (https://www.watson-int.com/).
https://www.watsonnoke.com/wp-content/uploads/2023/09/structure-of-Cyclopentadienyl-Trisdimethylamino-Zirconium-CAS-33271-88-4.png
248
229
Christina Duan
https://www.watsonnoke.com/wp-content/uploads/2019/09/logo.gif
Christina Duan
2023-09-03 06:28:12
2023-09-03 06:56:00
Cyclopentadienyl Tris(dimethylamino) Zirconium CAS 33271-88-4