Identification
CAS Number
186598-40-3
Name
BIS(T-BUTYLAMINO)SILANE
Synonyms
11958844 [Beilstein]
186598-40-3 [RN]
1X1&1&M-SI-HHMX1&1&1 [WLN]
N,N'-Bis(1,1-dimethylethyl)silane
N,N'-Di-tert-butylsilanediamine [ACD/IUPAC Name]
Silanediamine, N,N'-bis(1,1-dimethylethyl)- [ACD/Index Name]
Bis(t-butylamino)silane
MFCD03411245 [MDL number]
N,N'-Bis(2-methyl-2-propanyl)silandiamin [German] [ACD/IUPAC Name]
N,N'-Bis(2-methyl-2-propanyl)silanediamine [ACD/IUPAC Name]
N,N'-Bis(2-méthyl-2-propanyl)silanediamine [French] [ACD/IUPAC Name]
N,N'-Di-tert-butylsilandiamine [ACD/IUPAC Name]
SMILES
CC(C)(C)N[SiH2]NC(C)(C)C
StdInChI
InChI=1S/C8H22N2Si/c1-7(2,3)9-11-10-8(4,5)6/h9-10H,11H2,1-6H3
StdInChIKey
VYIRVGYSUZPNLF-UHFFFAOYSA-N
Molecular Formula
C8H22N2Si
Molecular Weight
C8H22N2Si
Properties
Appearance
Colorless liquid
Structure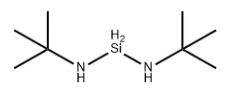 Structure of BIS(T-BUTYLAMINO)SILANE CAS 186598-40-3
Safety Data
Symbol
Signal Word
Warning
WGK Germany
3
MSDS Download
Specifications and Other Information of Our
Identification Methods
HNMR, HPLC
Purity
99.9+%(99.9999%-si)
Metal ion
<10ppb
Chlorine ion
<1ppm
Shelf Life
1 year
Storage
Under room temperature away from light
Known Application
BIS(T-BUTYLAMINO)SILANE used as a surface treatment agent to enhance the wetting, adhesion, and durability of material surfaces. It forms protective siloxane coatings on surfaces of metals, glass, plastics, etc., providing waterproofing, anti-contamination, and corrosion-resistant properties. And it can serve as a precursor in the synthesis of silicone rubber and silica gel. By reacting with silanization reagents or silane coupling agents, it can be incorporated into polymer chains, imparting flexibility, heat resistance, and chemical resistance to the materials.
General View of Documents
Links
This product is developed by our R&D company Warshel Chemical Ltd (https://www.warshel.com/).
This product is sold exclusively through our sales company Watson International Limited, and please click the link below for details (https://www.watson-int.com/).
https://www.watsonnoke.com/wp-content/uploads/2023/08/structure-of-BIST-BUTYLAMINOSILANE-CAS-186598-40-3.png
98
243
Christina Duan
https://www.watsonnoke.com/wp-content/uploads/2019/09/logo.gif
Christina Duan
2023-08-25 07:21:12
2023-08-25 07:21:17
BIS(T-BUTYLAMINO)SILANE CAS : 186598-40-3