Identification
CAS Number
28728-19-0
Name
Polyethylene furan-2,5-dicarboxylate
Synonyms
Polyethylene 2,5-furandicarboxylate;PEF;Poly (2,5-Furanedioic Acid Glycol Ester)
Molecular Formula
(C8H6O5)n
Properties
Appearance
Yellow particles
Structure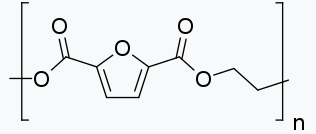 structure of Polyethylene furan-2,5-dicarboxylate CAS 28728-19-0
Safety Data
Symbol
Signal Word
Warning
Hazard statements
Precautionary Statements
WGK Germany
3
MSDS Download
Specifications and Other Information of Our
Identification Methods
HNMR, HPLC
Viscosity
0.7-0.75
Shelf Life
1 year
Storage
Store at room temperature for long time, in container tightly sealed and protect from light.
Known Application
Polyethylene furan-2,5-dicarboxylate, also named poly(ethylene furan-2,5-dicarboxylate), polyethylene furanoate and poly(ethylene furanoate) and generally abbreviated as PEF, is a polymer that can be produced by polycondensation or ring-opening polymerization of 2,5-furandicarboxylic acid (FDCA) and ethylene glycol.As an aromatic polyester from ethylene glycol it is a chemical analogue of polyethylene terephthalate (PET) and polyethylene naphthalate (PEN). PEF has been described in (patent) literature since 1951, but has gained renewed attention since the US department of energy proclaimed its building block, FDCA, as a potential bio-based replacement for purified terephthalic acid (PTA) in 2004.
General View of Documents
Links
This product is developed by our R&D company Warshel Chemical Ltd (http://www.ulcho.com/).
This product is sold exclusively through our sales company Watson International Limited, and please click the link below for details (https://www.watson-int.com/).
https://www.watsonnoke.com/wp-content/uploads/2023/11/structure-of-Polyethylene-furan-25-dicarboxylate-CAS-28728-19-0.png
134
316
Christina Duan
https://www.watsonnoke.com/wp-content/uploads/2019/09/logo.gif
Christina Duan
2023-11-01 08:45:18
2023-11-01 09:29:09