Identification
Properties
Safety Data
Specifications andamp; Other Information
Formulation or Ready Product
Links
Identification
CAS Number
85590-00-7
Name
10-MDP
Synonyms
12-methacryloyldodeylphosphonate
Estenia Opaque Primer
10-Methacryloyloxydecyl dihydrogen phosphate
Mono-10-methacryloyloxydecyl phosphate
MADDP
Molecular Structure
SMILES
O=P(OCCCCCCCCCCOC(=O)\C(=C)C)(O)O
StdInChI
InChI=1S/C14H27O6P/c1-13(2)14(15)19-11-9-7-5-3-4-6-8-10-12-20-21(16,17)18/h1,3-12H2,2H3,(H2,16,17,18)
StdInChIKey
CFKBCVIYTWDYRP-UHFFFAOYSA-N
Molecular Formula
C14H27O6P
Molecular Weight
322.33
Properties
Appearance
Light yellow sticky liquid
Flash Point
226.073°C
Boiling Point
450.2°C at 760 mmHg
Density
1.137 g/ml
Refractive Index
1.47@20℃
Safety Data
Symbol

GHS07
Signal Word
Warning
Hazard Statements
Precautionary Statements
Personal Protective Equipment
dust mask type(N95) US, Eye Shields, Gloves
Hazard Codes (Europe)
Risk Statements (Europe)
Safety Statements (Europe)
26
WGK Germany
3
MSDS Download
10-MDP CAS 85590-00-7 MSDS
10-MDP CAS 85590-00-7 MSDS in German
Specifications and Other Information of Our 10-MDP CAS 85590-00-7
Identification Methods
HNMR, HPLC(Under Test)
Assay
95% min
Viscosity
7,500 cP @25°C
Transmittance
<90% @455nm
Conductivity
>500µS/cm
For Improvement
1. Because of non-absorption of UV, HPLC can't be used for purity determination for now. But Watson is studying some ways to make it work.
2. Polymerization happens after long time storage. Watson keeps trying different inhibitors.
Known Application
It is used as an intermediate in dental area.
Recommended Formulation Use
It is a phosphate containing methacrylate modified monomer providing improved long-term bonding performance; It is recommended for use as an adhesion promoter in dental applications.
Productivity
20-30kg/month
Recommended Storage
2-8°C away from light
Remarks
There is a phenomenon of 10-MDP that is common and will not affect the product's quality generally that the product may solidify little by little after staying for some time under low temperature.
If liquid form is needed for use, please follow steps below,
1. Put the fluoride bottle with product into thermostat water bath;
2. Set the temperature at 40℃-50℃;
3. Wait for 3-4 hours before the product turns liquid again completely.
General View of Doccuments
Formulation or Ready Product
One of our R&D branches, PolyBerg has developed the mature dental formulation based on MDP and also makes final product(5ml/bottle) for some of our clients. If you are interested in our formulation, final product or requires custom performances or specifications, please visit PolyBerg or inquiry it by visiting here.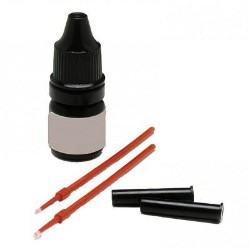 Current Performance
Excellent adhesion strength >=28MPa
Good elasticity, constant margin bonding
Instant adhesion, easy operation with convenience
Suitable for many kinds of light curing restoration materials
Watson-Int Link
Literature using Watson's Product
Effect of a novel prime-and-rinse approach on short- and long-term dentin bond strength of self-etch adhesives
Interaction of ACP and MDP and its effect on dentin bonding performance
Prime-and-rinse approach for improving the enamel micro-tensile bond strengths of self-etch adhesives
https://www.watsonnoke.com/wp-content/uploads/2013/02/Structure-of-10-MDP-CAS-85590-00-7.gif
78
272
Watson Noke Web Service
https://www.watsonnoke.com/wp-content/uploads/2019/09/logo.gif
Watson Noke Web Service
2013-02-22 02:24:37
2023-08-29 07:43:42
10-MDP CAS 85590-00-7